For the past few years, we've been seeing that there has been a general mellowing down of stylistic standards. The regular work attire has changed now that we are once again back in the office. Gone are the days when everyone wore collared polo shirts or buttoned-up long-sleeved tops paired with slacks or loose trousers. We are seeing more denim, even at formal events. Denim has been accepted for more formal settings in this generation when sneakers and chucks are more common than high heels on the red carpet.
Jeans are now acceptable and fashionable for the workplace in the daily work environment. And yes, we thank the gods and goddesses of fashion for that. (Oh the comfort!)
The nicest aspect of wearing jeans is that it is so versatile that you can start engaging in leisure activities right after work without having to change at home. Imagine the amount of time we save by not having to change into a different set of outfits. And imagine how we skip that part where we are stressing about what outfit to wear.
So how can you glam up your denim game and fit right into an office or a formal event setting?
Blazer up!
The key to wearing jeans well in a business-casual setting is to upgrade them with a dressier or more formal piece of clothing, such as a classic blazer. We love how D'i-Shee's Italian Blazer is so bold and contemporary that putting it on top of a regular t-shit-denim combo automatically glams up the whole look. The structured and padded shoulders plus the dramatic collar only add to the sophistication of the Italian fabric. Black is the universal color for elegance and sophistication, but you can get more daring with colors such as white, taupe, or purple – which you can all find at D'i-Shee. They really know what we will be needing!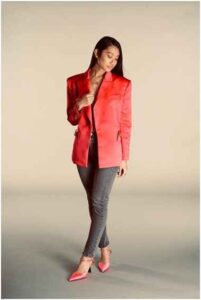 Add spice with a fun top.
And if you are pairing denim with a classic blazer, play around with a cool top. Cropped tops are definitely in. Gone are the days when wearing a cropped top will invite either shocked or disapproving stares. But even with that, we don't really care! Play around with the cropped sleeveless top such as this stunning cropped piece from D'i-Shee. See how the buttons add so much class to this beautifully-cut top. The collared neckline adds a dash of grace, and we are seriously in love with the gold metal tag that resembles that of Prada. We feel like all the details here are carefully thought-off, ensuring that we all get the side-eyes as soon as we wear it.
Pair this top with dark-colored denim (try flared ones) and a chunky heel and you're all set to turn heads! Go forth and rock the runway, babe!
Another pairing that you can try is with something strappy, creating a more feminine feel against the denim. Try this cute strappy easy top, also from D'i-Shee.
And if you are the more daring type, why not go full head on with an elegant bra? Made from Armani wool, this bralette screams fashion. It's available in black, white, and our favorite – Magic Mauve. It definitely makes us feel so magical. Can you imagine this V-necked bralette with wide-legged jeans and a black Italian suit? We drool! You really need to get used to the stares and admiring glances that you will get.
Denim Complete the look.
Aside from the blazer, you can create a more formal look by pairing your jeans with a luxury sweater, or a loose silk top. And don't forget to accessorize! Put those pearls on, some sparkly bracelets or a bangle, and the smallest luxury sling bag you got there. For footwear, you can get creative (or crazy!) with sneakers or stilettos.
So, what type of denim should you be eyeing?
You should stay with basic denim colors like black, navy, or dark wash and stay away from distressed styles, uber ripped ones, and extremely skinny silhouettes. Denim is a versatile option, whether it has straight or wide legs. Get inspired by celebrities and influencers rocking denim in the most formal events. Maybe not the Britney – Justin all denim ensemble, but you get what we mean. Maintaining a neutral color scheme across your ensemble will also offer refinement to the jeans. Remember, balance is key!